Servicing & Repair

We're equipped for auto electrical repairs and diagnostic fault-finding, diesel / petrol / electric / hybrid competent, including engine management light, clutch, timing belt, suspension, exhaust and tyres.
We offer Manufacturer's Servicing, or alternatively four different levels of standard service:
Manufacturer's Servicing—to ensure your car maintains any warranty
Bi-Annual (Full Service) >> Details
Annual (Interim Service) >> Details
Lubrication (Six Month Service) >> Details
Winter Service (Basic Service, Oil and Filter) >> Details
Manufacturer's Service Schedule: pricing for this is done on a case by case basis – please call us for a quote.
>> Call 0121 472 3848 today and find out how we can help you.
A high-capacity, well-equipped workshop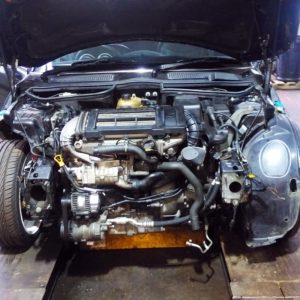 We have a carefully designed and highly functional workshop, equipped with:
A MOT Class IV bay

Three 4-poster ramps that can hold up to three tonnes, for services

Four 2-poster ramps that can hold up to four tonnes, for clutch, cambelt, cylinder head, and suspension work

A special diagnostics bay for all types of vehicle repair

Equipped and trained to service electric and hybrid vehicles
Electronic diagnostic facilities
Hollier & Sons always keep pace with the introduction of new technologies, driven by the introduction of hybrid and electronic vehicles. We use a multitude of different types of equipment together with our continuous training, and experience of many years of working with motor vehicles. In this way we can identify almost any fault you will ever experience with your car.
We specialise in using diagnostic tools which can communicate with, diagnose and repair most cars. We have 15 years' experience in operating cutting-edge scanning and diagnostic equipment which can identify the issues with your vehicle, and allow us to report back to you about the problem within the first hour of working on your car.
Highly trained and experienced vehicle technicians
Our dedication to investing in the best technology is only matched by our commitment to training our people. Our vehicle technicians have ongoing internal and external training and best practice sharing, maintaining and improving their expertise on gearboxes, clutches, brakes, and all aspects of vehicle repair and maintenance.
Hollier & Sons has a Master Technician, our leading technical expert within a team of technicians all trained to Level 3 in light vehicle work as a minimum standard.
Hybrid and electric vehicles
We are trained and insured to work on hybrid and electric vehicles, qualified to Level 3 in servicing, MOT inspection, diagnostics and repair.
Modern servicing, traditional values
Our approach is to dedicate one of our vehicle technicians to work on your car—from the start of the job, right through to completion. We don't move a vehicle between ramps if it is a work in progress, and our priority is ensuring the highest quality of repair.
We have the right tools for the job, with the appropriate pullers, test equipment, and diagnostic tools. We only buy premium parts, and use original equipment or their equivalent standard, so that we can service vehicles within their warranty period to manufacturer service standard.
When you arrive, you'll see we have multiple car parking spaces available to ensure your car is safe and well looked after during its stay with us. Once booked in via reception, we nominate a secure dedicated key peg for your car keys.
Having assessed your car, our aim is to call you once to discuss the work to be carried out and the costs associated with it, and then once again when your car is ready for collection.